Ingredients
3 Eggs
100ml Vegetable Oil
200ml Water
1 Packet Of Oreo Cookies
225g Icing Sugar
115 Softened Butter
Instructions
1) Preheat the oven to 170°C (165°C for a fan oven), or Gas Mark 5.
2) Generously grease 3×8 inch cake tins and line with greaseproof paper.
3) Mix Green's chocolate cake mix, eggs, oil and water in a large bowl on a low speed for 1 minute until moistened. Mix on a medium speed for a further 2 minutes.
4) Pour equal amounts of mixture into the three prepared cake tins.
5) Bake in the oven for 20-25 minutes. To check if cooked, insert a skewer into the centre of the cake. If the skewer comes out clean then the cake is ready.
6) Leave to cool before removing from the tins. Reserve 5 biscuits for the top and blitz the rest to a powder — but don't make the powder too fine.
7) Mix 3/4 of your powder with soft butter and Borwick's icing sugar to make a speckled frosting and filling.
8) Spread as filling in-between each layer and sandwich and cover the cake. Use spare powder to decorate the base of the cake and plate.
9) Cut 5 biscuits in half to decorate the top, sit them in a piped dot of icing to hold in place.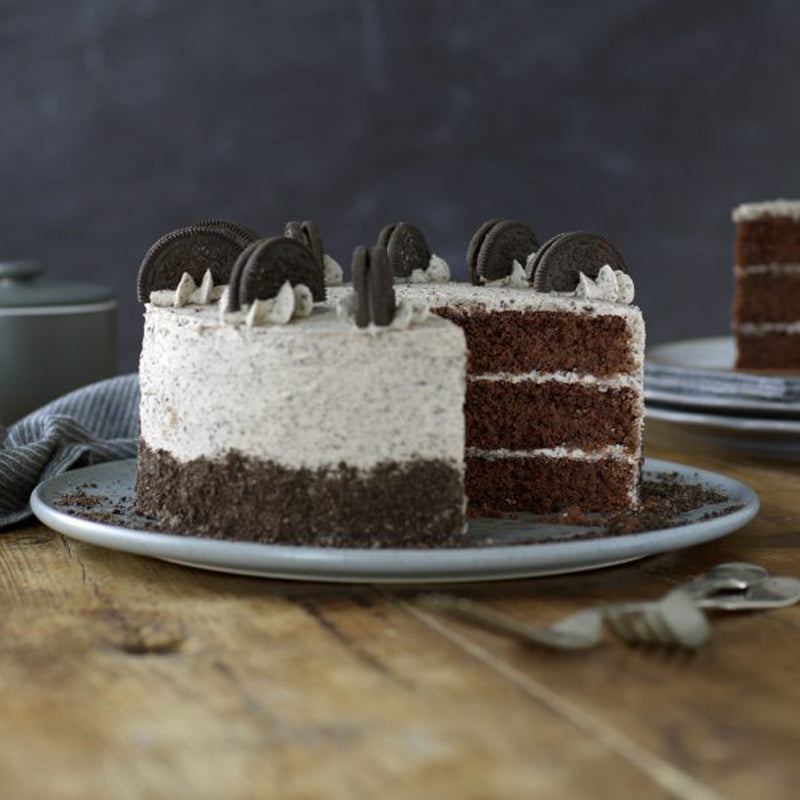 Servings
Preparation
Cook time
Passive time
Difficulty
With Green's you don't need to be a baking expert.

High quality mixes easy for all the whole family.
Each mix made with the best ingredients possible.