Ingredients
400ml Condensed Milk
115g Butter
100g Soft Brown Sugar
235ml Milk
Bananas
Decorations – whipped cream, chocolate shavings
*You can replace the ingredients needed to make the caramel sauce with a tin of Dulce de Leche caramel sauce.
Instructions
TO PREPARE THE BANOFFEE CHEESECAKE:
Line a 17 – 18cm (7″) tin with foil. Make sure that the foil overlaps the edges of the tin.
Melt 75g (3oz) of butter in a saucepan and stir in the biscuit crumb.
Spread the crumb mixture over the base of the tin and press down with the back of a spoon.
Leave to chill in the fridge.
Place 40g butter, 100g soft brown sugar and 400ml condensed milk in a saucepan and cook over a gentle heat, stirring constantly, until the mixture comes to the boil.
Reduce the heat and cook for 4 – 5 minutes until the caramel is pale golden and thick and is coming away from the sides of the pan.
Pour the topping over the biscuit base and leave to cool.
Once cool, cover with a layer of sliced bananas.
Using an electric hand whisk, mix some Green's cheesecake mix into 235ml (8fl. oz) of milk for 3 minutes until thick and creamy.
Spread the creamy mix on top of the sliced bananas.
Place the whole thing in a refrigerator for 45 minutes to set.
Before serving, decorate the top with sliced bananas, whipped cream and chocolate shavings.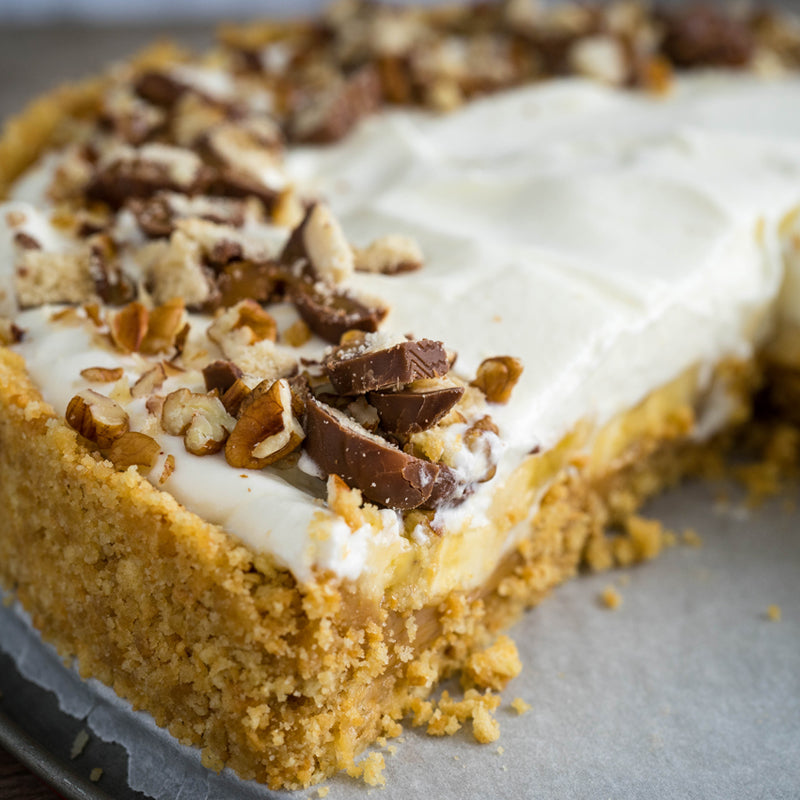 Servings
Preparation
Cook time
Passive time
Difficulty
With Green's you don't need to be a baking expert.

High quality mixes easy for all the whole family.
Each mix made with the best ingredients possible.